Armored Cash In Transit
Vehicle based on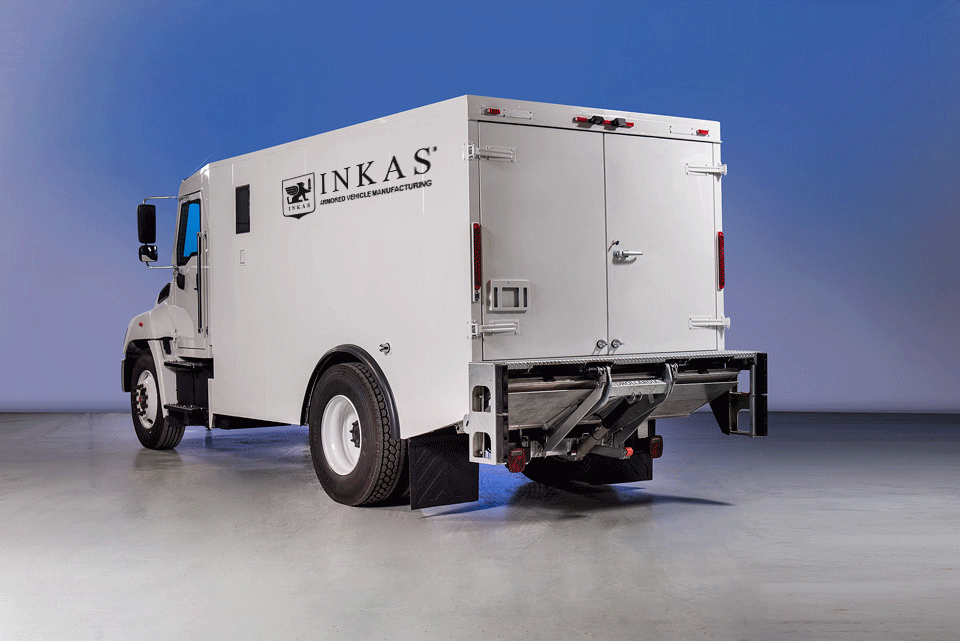 This armored cash in transit vehicle based on the Hino 338 incorporates a high payload capacity with plenty of room for cargo as well as 2-3 person crew. It offers ballistic protection up to NIJ IV/CEN BR7. This truck was fully designed and built in-house at the INKAS® plant in Toronto, Canada, using certified and tested light-weight armoring materials.
This armored cash in transit truck is perfectly suited for hauling large payloads and a 3 person crew. There is more than enough power to do all that with 260 horsepower and 8L diesel engine mated to a 6-speed automatic transmission. Among its security features are a smart locking system specifically designed for cash in transit usage as well as video surveillance of both internal and external viewpoints. The cabin is completely protected with 360-degree perimeter protection including an overlap system designed to stop bullets from penetrating through the door seams. The payload area is completely configurable to conform to any client's specifications.
The armored cash in transit truck based on the Hino 338 is a fortress on wheels and will more than satisfy the requirements of any bank or large asset transport agency.
Alternate Configuration
Entire perimeter protection of the passenger compartment
High quality multi-layer bullet resistant glass
Integrated access control module
Protection for battery and electronic control module
Reinforced door hinges and other critical structure points
Reinforced suspension
Runflat devices
Smart locking system designed for cash in transit usage
Vehicle security system accessible from front cabin
Video surveillance of both internal and external viewpoints
Light-weight armoring package
Emergency lights system
Siren/PA/Intercom system
Driver-controlled remote locking system
Fire suppression system
Heavy duty brake system and components
Heavy duty wheels
Vehicle Specifications
| | |
| --- | --- |
| Year: | 2020 |
| Body Style: | Cash In Transit |
| Armor Level: | BR7 |
| Transmission: | 6-Speed Manual |
| Engine: | 8.0L Diesel I-6 |
| Horsepower: | 260hp @ 2,500 |
| Drivetrain: | FWD |
| Dimensions (mm): | 5563 x 2451 x 2743 |
| Wheelbase (mm): | 4241 |
| Seating Capacity: | 3 |
| Fuel Capacity: | 190 L |
| Availability: | Special Order |
Call us: +1 416 645 8725
ARMOR LEVEL
(UP TO)
AMMO
7.62mm

CEN 1063
BR
7
EXPLOSION
2 x DM51

For more information
Call +1 (416) 645-8725 or complete the form below
Other
Cash In Transit Vehicles
Browse our inventory of armored vehicles.